My woodwork grew out of a lifelong love of trees, something that must have begun with my childhood experiences playing in the Australian bush. The trees were always there and their scent, shade and quiet presence can still transport me to the past. I believe we must not destroy pristine forests, so I no longer use rare timbers. Trees do die and can be replaced, so we can make wonderful things from wood as long as we take care not to leave the environment poorer. I am sure I will use less wood in my life than a large newspaper uses in one day.
While I love to make simple shapes based on classical work, I also like to have fun and I enjoy breaking rules. It's very satisfying to challenge conventional rules.
Contrast intrigues me: light and dark, rough and smooth, simple and complex. I particularly like to create intriguing peep-views into the heart of the tree. My childhood mantra was: "What's in there?"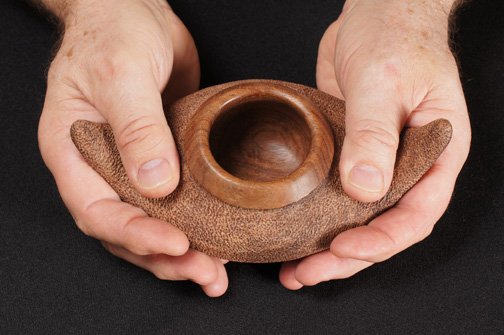 Hand and Eye
Tasmanian Blackwood | 2.5" h x 7.25" w x 4" d
Since 1990 I have participated in over 100 exhibitions, many of them solo, in Australia, Japan, France, Austria, USA and Germany. My work is in collections in Holland, Germany, Spain, France, Britain, Canada, USA, Taiwan and Japan. I have also curated several exhibitions in Australia and the USA, and am often asked to give presentations at wood art and turning-related conferences around the world.
Little Book of Wooden Bowls, co-authored with Kevin Wallace, 2019.
The Creative Woodturner, 2014
New Masters of Woodturning, co-authored with Kevin Wallace, 2008.
The landmark historical catalogue for the SOFA Exhibition Icons, November 2008.
Over 300 wood-related articles for magazines and journals in seven countries, as well as reviews of books, exhibitions and events.
From 1999 to 2008, Contributing Editor to the American magazine Woodwork.
From 1999 to 2006, Editor-in-Chief of the Philadelphia-based woodturning journal Turning Points.
Edited The Wooden Bowl, by Robin Wood, 2005.
Wood Dreaming, 1996.

Peabody Essex Museum, Massachusetts
Cedar Rapids Museum of Art, Iowa
The Detroit Institute of Art, Bohlen Collection
The Los Angeles County Museum of Art
University of Michigan Museum of Art, Ann Arbor
Sakai Cultural Centre, Nagoya, Japan.
The Ikenobo Centre, Kyoto, Japan.
Collection of the Singapore Ministry of Trade and Industry
The Long Beach Museum, California
The Mobile Museum, Alabama
The New York Museum of Art and Design
Fuller Craft Museum, Massachusetts
Contemporary Museum, Honolulu
Minneapolis Institute of Arts
Figge Art Museum, Iowa
The Baumgarten Collection – Chicago
The Bohlen Collection - Boston
The Bresler Collection – Washington
The Forney Collection – Chicago
The Horn Collection – Arkansas
The Kanze Collection – Tokyo
The Kochman Collection - Virginia
The Lipton Collection – California
The Pi Collection – San Jose
The Saxe Collection – California
The Seltzer Collection – Pennsylvania
The Waterbury Collection – Minnesota