Lindesberg, Sweden
2nd June - 29th September, 2023

50th Anniversary Celebration Exhibition

As part of Tormek's 50th anniversary celebrations, they will open their doors to the public this summer. At the exhibition Sharp Makers 2023, you can experience crafted arts from all over the world, all created using Tormek-sharp tools.

Terry Martin's piece, Heart of the Tree, is in this special celebration show.
This recent commission is part of Terry's Heart of the Tree series.

Jacaranda, turned and pierced,
40 cm high.
Terry Martin
'Heart of the Tree'

Venue:
Bungendore Wood Works Gallery
22 Malbon St.
Bungendore NSW 2621
Australia
Dates:
24th June - 25th September, 2022
Times:
9 am to 5 pm daily
"My love of trees has always influenced what I have made.
Every time I cut a piece of wood, I think about the tree."
Terry Martin is profiled in the June 2021 issue of American Woodturner Magazine.
The Story of a Storyteller: Terry Martin in Profile
by Joshua Friend
Reprinted with permission from American Woodturner, Journal of the American Association of Woodturners (woodturner.org).
Excerpt:
A love of trees
The story of Terry's work as a woodturner begins with his love of trees. His 1996 book, Wood Dreaming (Harper Collins), offers not only an account of woodturning in Australia, but reflects an appreciation by turners, craftspeople, and aborigines alike of the splendid raw material of trees. Perhaps because Australia is resplendent with unique and interesting timbers, often with stunning grain, Terry has enjoyed a life-long love affair with them. He writes, "The trees of Australia have evolved in perfect response to the unique conditions of their land. Some have survived for inconceivably long periods—living memorials of ancient continents and primeval eras."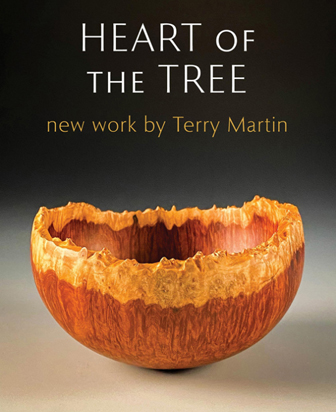 Heart of the Tree
New Work by Terry Martin
Venue:
Ipswich Art Gallery
d'arcy Doyle Place
Ipswich, Queensland, Australia
Dates:
12th February - 18th April, 2022
Times:
10 am to 5 pm daily
Ipswich Art Gallery Website:
https://ipswichartgallery.qld.gov.au/whats-on
Watch Video of Terry Martin in his woodturning studio.
This video is being displayed at his Heart of the Tree exhibition at Ipswich Art Gallery in Queensland, Australia.